Welcome to our newest Beta Club members!

Kindergarten book buddies!

Pictures from our preschool/Pre-K Gradparents Day celebration.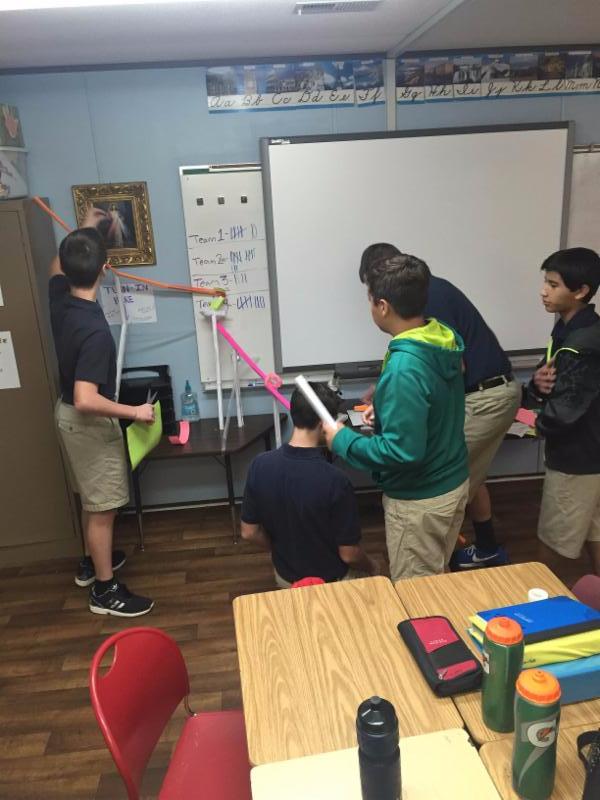 8th grade boys working on a roller coaster project!

The girls soccer team went to the UK girls soccer game last night.  They even escorted the players on the field.


Principal's Corner  


Greetings,   

The St. John School year is in full swing with academics and athletics. We have completed our MAP testing and our classes all scored above the national average. The students are engaged and participating in many exciting classroom activities. Our cross country team ventured to Lexington to compete in the Bluegrass Cross Country meet. All the runners did a great job. A special congratulation goes out to the K-2 boys' team which brought home a third place trophy and to John Reinhart who finished first in his division. Please check out all the results below. Also, all the soccer teams were in action this weekend.
Lastly, thank you so much for your generosity in providing help for the flood victims in Louisiana. Our students collected over $200 dollars in cash with the dress down day. We also collected $350 in gift cards and an abundance of school supplies. I continue to be amazed at the generosity of the school and parish when it comes to helping those in need.

God bless and take care,



  
Dan Mardell    
 
Here's What's New:      
Robotics Club Informational/Kick-Off Meeting

Robotics Club will have an informational/kick-off meeting Tuesday, September 13, from 7:00PM to 8:15PM.  The meeting will be at Cardome in the Academy Theater Room (Building 2).  The club is open to 2nd through 8th graders.  If you are doing soccer or cross-country feel free to join us a little late.  If you can't be there but would like to be involved contact Roy Sturgill at roysturgill@gmail.com.  We are also looking for parent volunteers.  The club will meet all academic year and we will do our best to coordinate with other St. John activity schedules.  Come see what it is all about tonight!


Lifetouch Picture Orders Due 9/24

Painting with a twist

Join us for a fun afternoon of painting and socializing for a great cause! All proceeds will benefit the 7/8th grade 2017 DC trip, so invite your friends and family. You can register now athttps://www.paintingwithatwist.com/events/viewevent.aspx?eventID=776551with password "DC". There will be snacks and a great raffle.  
Saints Soccer Schedule
Click here for the fall soccer schedule.

New Student Management System
St. John School will be using a new program called Ascend SMS this year.  This program will replace the old Engrade grading system and PDS Data System.  Both Engrade and PDS programs are being phased out.  Several schools in the diocese are or will be using Ascend.  We are still working on this new system and as soon as we have worked out all the kinks, we will be sharing the system with you.  You will be able to log on and check out your child's grades, attendance, homework, and more.  With Ascend you will also receive daily emails with a summary of the above items.  Please be patient with us as we learn this new system.  We will send a note home to parents when we are ready to go live.  If you have questions about your child's grades before then, please contact the students teacher.

Double S Stampede volunteers needed
Volunteers are needed to help at the Double "S" Stampede on Saturday, September 25th.  Please contact Coach Todd Reinhart at creinhart@bellsouth.net for more information on volunteer opportunities and times.

Cross Country News
The St John Cross Country team took their talents to Lexington and Masterson Station Park this past weekend for the hot and windy Bluegrass CC Invitational.  Our middle schoolers did an awesome job at their first attempts of the year at a 4K, or 2.4 miles.  Top 35 performances were turned in by Erin Luckett, Dominic BIlotta, David Reinhart, and Kristin Drummond!!  The younger guys (5th grade and under) all ran a 2K, or 1.2 miles.  All of them were sensational!   Among the nine runners that ran this last year, they improved their times by 57 seconds!!  The K-2nd grade BOYS earned third place in their race and got a trophy -- this team included Mark Reinhart, Ben Mayer, Coen Noble, Raeburn Taylor, Griffin Hughes, and Cade Howell!!    John Reinhart (1st place) and Preston Luckett (14th) earned top 20 performances in the boys 3rd-5th grade race!   Congratulation, Saints, and keep up the great work!


TRIVIA NIGHT

Saturday, October 1st - 7:30 pm at Cardome
Give your brain a workout while having fun and supporting our students! The first annual St. John School Trivia Night will be held October 1st at 7:30pm. Get a team of 8 people together for some friendly competition for the grand cash prize and all proceeds will go towards new textbooks. All Players have a chance to win door prizes! Must be 21 years old to play and $30 per couple. You can bring your own food and refreshments. Registration forms will be sent home in students folders today or click here.
We're looking forward to a night of fun and excitement! Any questions, contact Emily Balbaugh,emily_42101@yahoo.com or Meighan Gassett, meighangassett@gmail.com.

After School Art Clubs
Monday Art Club- For grades 5th through 8th. The art club is a fine art club. We will be exploring different mediums and ideas as well as artists. Fee $25.00 per month. Club size limited to 15.
Tuesday Crafts Club- A fun crafts club for Grades 1st-4th grades. Fee $25 per month. Club size limited to 15.

Thursdays Drawing Club- For Students that show a desire to become better at drawing starting with the basics. A variety of drawing mediums to be explored over time. Open to 1st-8th grades. $50.00 per month. Class size limited to 10.

Please contact Miss Barb in the art room to sign up . Checks to be made out to St. John School.  Any questions please contact Miss Barb at bmoore@stjohnschoolonline.org

Computer Lab Hours
The computer lab will be open from 3 -3:30
 on Mondays after Labor Day for students who would like to take AR tests or practice typing.

2015-16 Yearbooks still available
We currently have 8, 2015-2016 yearbooks in stock for only $28.  They are available in the office, first come, first serve. 
Kroger Community Rewards
RE-ENROLLMENT Ends AUGUST 31:
How to RE-ENROLL in Kroger Community Rewards (if currently participating)
1. Go to www.Kroger.com
2. Click the blue Sign In tab at top of the page.

3. Enter your email address and password and click the blue Sign In tab.

4. From the department menu, click Community, then Community Rewards

5. From Community Rewards, click on the Edit or Re-enroll button.

6. Then, 

a. Find Organization (Search by keyword or nonprofit organization number - NPO #)

b. Select Organization (Click the button to the left of the organization)

c. Save your Selection (Click the Save button to save your selection.)

*** Call 1-800-KROGERS, Option #3, with questions.
Bingo VIP Positions
We are in desperate need of callers, front desk and back desk workers.  These positions are mostly seated.  Training can be done on site.  Please email the school office if you are interested in learning one of these bingo positions.  Click here for a detailed job description.

Wendy's Fundraiser
We have joined with Wendy's for a wonderful new fundraising opportunity!  You will be receiving vouchers to use for 1 year at most area Wendy's restaurants.  A list of participating Wendy's stores will also come home.  Click here for the link to print more vouchers to use.  Share this information and vouchers with your friends to help our school raise more money!

 Pictures For the Notes 
If you have any pictures of events going on around school and would like to share them, please e-mail them tooffice@stjohnschoolonline.org

Submissions for Notes From the Office
If you would like a St. John School or parish event included in the Notes From the Office, or you have pictures you would like to appear in the Notes, please send your submissions tooffice@stjohnschoolonline.org no later than Mondays at 9am. Thank you!
Dates to Know: 

Sep 12: School Board Meeting 6:30pm 8th grade classroomSep 12: Robotics meeting 7pm Academy Theater (Cardome)Sep 16: Mid Terms endsSep 21: Mid Terms go homeSep 23: 3rd - 8th grade field tripSep 24: Double "S" Stampede
St. John School Board Members

President - Mason Howell
Vice President - Roy Sturgill
Secretary - Lisa Case
1st year members
Carissa Yount, Emily Balbaugh, Kim Jansen
2nd year members
Christina Gordley, Lisa Case, Roy Sturgill
3rd year members
Jason Noffsinger, Kathy Boothe, Mason Howell

 
   
St. John Catholic School                   Ss. Francis & John Parish

Questions, comments, or concerns? As always, feel free to contact us anytime or simply reply to this email.






St. John Catholic School
106 Military Street
Georgetown, Kentucky 40324
502-863-2607
office@stjohnschoolonline.org

www.stjohnschoolonline.org