Pictures from the Halloween Barn Dance
2nd graders learning the Act of Contrition with Fr. Linh
3rd & 4th grade field trip to Ft. Boonesborough State Park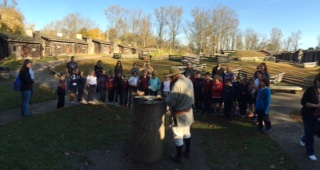 Our U8 Soccer Team
Our U10 A soccer team.
Our 2015-16 Cheerleaders
The 2nd grade class won the spirit stick at last Friday's Pep Rally.
Thank you to everyone who helped with the Halloween Barn Dance. There was a lot of good food, treats, and great costumes. The eighth grade parents and students did a super job with the haunted house. I especially enjoyed the exploding pumpkin!
St. John School soccer and cross country teams finished their seasons this weekend. All the athletes worked hard and had many successes. This is another great way that shows "ST. JOHN'S GOT TALENT!" A special congratulation goes to John Reinhart who beat out over 500 runners to claim the title state champion! Several other runners finished in the top 50 in their age divisions which also included 400-500 runners (see results below). Thanks to the coaches of soccer and cross country teams for your time and dedication. Your efforts have definitely enriched the lives of our children.
If you have not returned your school survey, please do so. These surveys are very important for our accreditation process. Remember to attend the VOICE meeting on November 2
nd
. It would be fantastic if one parent from each family could attend. This is a great opportunity to meet with other parents to discuss the positive things going on and to determine areas where we need to grow. This forum is being sponsored by the school board. Their hope is to gather information that will help guide them in setting a vision for St. John School.

Dan Mardell
Here's What's New:
$1 jeans day
Students may wear jeans to school on Friday, 10/30, with a $1 donation. Money collected will go to support field day activities.
Parent Surveys
You should have received a parent survey from your youngest student 2 weeks ago. Please return them as soon as possible. We need these back for our accreditation process.
VOICE
November 2
nd
2015.
Mark your calendars and plan to attend our first
"Parent
Voice"
meeting. We will begin in the church at
6pm
with a
brief "State of the School" update, then break into small groups where parents will be given the chance to discuss the strengths of our school as well as its opportunities for improvement.
What makes you a St. John advocate?
Where do you see opportunities to improve?
Our School Board needs
your input
to help build a plan for
the future of St. John School which will help all of o
ur children excel.
U8 Soccer Team
Click here to read about the accomplishments of the U8 soccer team.
1st- Calder J., Ian C., Ethan G., Alex W., Jude S., Robert W., Raeburn T., Jeevan J., Rohan J., Jack R. (2), Jacob H., John S.
2nd- Tripp S., Emery Y., Billy M., Isabella M., Evelynn G.
3rd- Charlie B., Nathan C., Blake M., Anna M., Olivia N., Brayden P., Ella R., Miles V., Carson W., Sydney Z., River C., Preston L., MacKenzie H., Audrey J.
4th- Maddie B., Linela D., Josh D., Ava H., Sawyer J., Nathan K., Zachary M., John R., Madison S.
5th- Max B., Gianna B., Mazie C., Matthew G., Clark H.
6th - Hunter B., Kristin D., Connor G., Hana J., Evan L., Evan M., Alex M., Bridgette M., Lincoln N., Gabe N., David R.
7th- Jonathan H., Kylie H.
8th-
Eli C., Rebecca D., Jim N., Spencer M., Spencer G.
1st- Izzy D., Molly J., Jack R. (1), Cade H., Ben M.
2nd- Elijah A., Gianna N., Mike O., Maggie W., Cade B., Jeremy M., Lilly F., Liam C., Isiah G., Dekon F.
3rd- Adrianna B., William R.
4th- Charlie C., Joseph M., Caroline R.
5th- Devin B., Madi C., Seth F., Haydn H., Eva L., Shea M., Spencer M., William M., Dawson P., Whitney S., Sydney S., Jaxon W.
6th- Joe B., Dominic B., Phillip E., Rachel S., Lily U.
7th- Jackson C., Matt D., Ethan F., Grace H., Nicholas M., Jacob N.
8th- Lucy B., Sophie L., Nicholas C., Katie T., Kyla P.
K- Luke B., Jaxson C., Tucker G., Ellie K., Corinne Y.
1st- Jacob H., Ben M., Coen N., Alex W., Ian C.
2nd- Jeremy M., Billy M., Kaylynn C., Emery Y.
3rd- Nathan C., Audrey J., Adrianna B., Anna M., William R.
5th- Gianna B., Shea M., Spencer M., Marcus T.
7th- Matt D., Ethan F., Jonathan H., Grace H.
8th-
Lucy B., Nicholas C., Rebecca D., Spencer M.
Meet of Champions -- grand finale for the CC team!
"The St John cross country team ended it's season by competing in the state championship, the Meet of Champions, at Masterson Station Park this past Saturday
. Minimal to no rain, a light breeze, mild temperatures -- we were blessed with another beautiful day for running! The boys and girls ran their hearts out in these huge races, each race having approximately 400-500 runners in it!! St John had 5 of its runners place in the top 50 of their race -- this is the most ever! This included Erin Luckett (23rd place in the Middle School), Preston Luckett (50th in 4th grade and under), David Reinhart (16th in 6th grade and under), Dominic Bilotta (25th in 6th grade and under), and John Reinhart. John did something that no other St John CC runner has ever done -- he WON the CC STATE CHAMPIONSHIP, beating approximately 500 other runners to the finish line while running his 2K in 7:34
!! We had team scores in 2 of the races: the boys 4th and under team (which included Coen Noble, Ben Mayer, Mark Reinhart, Josh Drummond, Preston, and John) finished 18th out of 38 teams AND the boys 6th and under team (which included Evan Lopez, Max Berry, Alex Mayer, Dominic, and David) finished 24th out of 42 teams! Three of our mighty runners ran for the last time at St John -- Seth Perry, Nicholas Coleman, and Lucy Barry; they did fantastic all year and will be missed! Our awesome returning girls -- Grace Hommrich, Kylie Hargrave, Erin, Kristin Drummond, Maddie Blankenship, Gianna Neaves, and Lillie Fritsch -- ran SUPERBLY, but need your help next year -- they need MORE GIRLS to run so they can score as a team!!!! So come out and run next year AND thanks for cheering the team on this year!! GOOOOO SAINTS!!!"
When you post pictures to Facebook of things our students are doing, please use the hashtag #welovestjohnschool. By using this hashtag we can share more amazing pictures of the great things happening at St. John School on the official school Facebook page. Also, don't forget to like the official St. John Catholic School page.
PHOTOGRAPHY SESSIONS for the directory have begun. Having your photo taken obligates you in no way to purchase anything! You will, however, receive a FREE 8" x 10" photograph just by your participation! C
all the Parish office right now at
502-863-3404
and speak with Teri to sign up! It's fast and easy!
The Computer Lab is open on Mondays from 3-3:30
for students who would like to take AR tests or practice typing.
Used Uniforms
Don't forget to stop by the office to purchase some gently used uniforms. You may also drop off all your old uniforms that don't fit anymore.
St. John School Website
Pictures For the Notes
Submissions for Notes From the Office
If you would like a St. John School or parish event included in the Notes From the Office, or you have pictures you would like to appear in the Notes, please send your submissions to
office@stjohnschoolonline.org
no later than Mondays at 9am. Thank you!
Oct 27: AR awards after word and communionOct 27: Diocesan Spelling Bee
Oct 28: Lexington Catholic Open House 6-8pm
Oct 30: Stranger Danger presentation
Nov 1: Virtus Class 3pm in Mary HouseNov 2: Voice Meeting 6pmNov 5-10: 7th & 8th grade Washington DC tripNov 9: School Board Meeting 6:30pm
St. John School Board Members
President
- Beth Blankenship
Vice President
- Mason Howell
Secretary
- Lisa Case
1st year members
Christina Gordley, Lisa Case, Roy Sturgill
2nd year members
Jason Noffsinger, Kathy Boothe, Mason Howell
3rd year members
Jason Yount, Beth Blankenship, Mary Napier
St. John Catholic School Ss. Francis & John Parish
Questions, comments, or concerns? As always, feel free to contact us anytime or simply reply to this email.
St. John Catholic School
106 Military Street
Georgetown, Kentucky 40324
502-863-2607